The versatile built-in vacuuming drawer
Perfect conditions for the storage of food or for the preparation of tasty sous-vide cooking. The new vacuuming drawer impresses with its wide range of applications. What is better than to be able to conjure up meals effortlessly that contain everything that the illustration in the cookery book promises. The basic function of the vacuuming drawer is impressively simple: The air (oxygen in particular) is sucked out of the film bags in which the food items are stored and then they are sealed so that they are airtight. This maintains the quality of food items for a longer period of time. In addition, the vacuuming drawer prepares food optimally for sous-vide cooking. Divide into portions, store and prepare for enjoyable cooking.
Step 1: Suitable bag for vacuum sealing
The appliance comes with the correct plastic bag. You can buy replacements from Jones Britain by contacting us on 01435 866435.
2nd Step: Fill the bag
Fill the bag with any type of food. Be careful not to over-fill the bag.
3rd Step: Insert bag
Open the vacuum-sealing drawer. Place the filled bag in the appliance.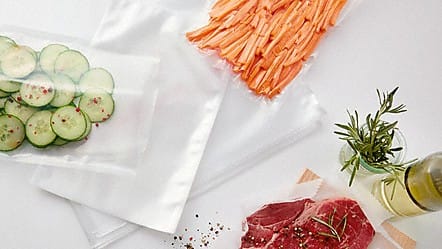 4. Step: To select a setting
You have the choice between 3 vacuum settings. The sealing time can be freely selected from 3 settings.
5. Step: Start vacuum-sealing process
When you close the appliance lid the appliance starts the vacuum-sealing process.
6. Step: Remove air
In the vacuuming process the air is drawn out of the vacuum chamber and the plastic bag.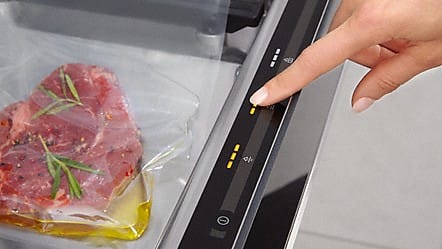 7. Step: Seal food
At the end of the vacuum-sealing process the food is automatically hermetically sealed.
8. Step: Removing food
Open the lid of the vacuuming drawer and remove the vacuumed food.
9. Step: Vacuum-sealed food
The food is completely vacuum sealed and ready for use at a later date.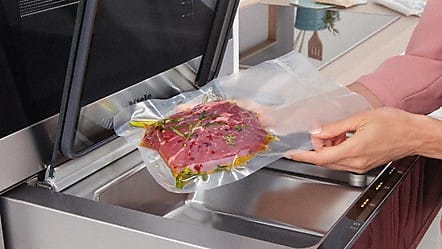 The sous-vide cooking method
People who are familiar with the sous-vide cookery method happily accept the longer cooking process. Exceptional pleasure is guaranteed! The advantage lies in the evenness of the cooking, whereby the aim is to achieve a specific core temperature. Overcooked edges are a thing of the past. Flavours do not react with oxygen and food stays moist. Food can also be vacuumed with spices or a marinade. The cooking results can always be reproduced.
Particularly tender meat
Meat is cooked very slowly at constantly low temperatures. It is therefore extremely juicy and tender. Thanks to the gentle cooking process the meat cells relax without losing any of their juices. It is impossible to overcook your food. If you like your meat seared, brown it off quickly either before or after vacuuming.
For more information or to view the showroom model, please get in contact with us on 01435 866435 or visit our Heathfield Showroom.
Blog Post written by: Chloe Hartnup, Junior Kitchen Designer at Jones Britain Kitchens
04.09.2017