Bespoke Kitchen Design – Esher Surrey
JB Bespoke Range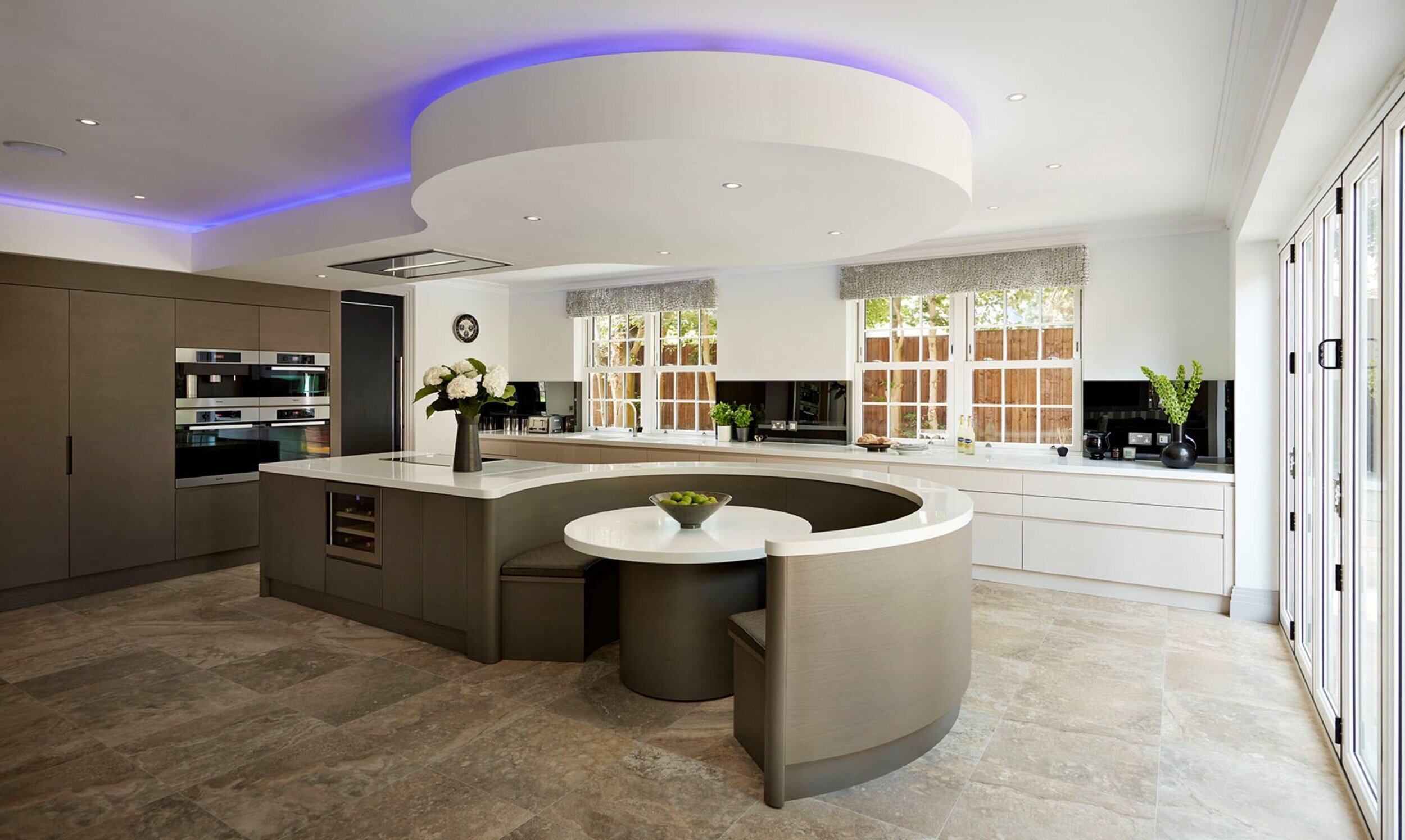 Bespoke Kitchen Design - Esher Surrey
An impressive contemporary bespoke kitchen design from Esher Surrey with wow factor in the design. This called for some pretty radical thinking outside the box.
Bespoke Kitchen Design Service
We were asked to design a high end kitchen for a new build project in Esher that was not only different to your average kitchen but also innovative in it's design.
This called for some pretty radical thinking outside the box. The space was huge and didn't need completely filling wall to wall with kitchen furniture. Instead it was very design lead.
The focal point would be the island and the client wanted to incorporate some form of banquette seating. Dan approached this on his CAD system using a shell is inspiration so although the seating is totally rounded on the outside and mirrors the bulkhead above it has a bezier curve on the inside and in the seating alone there are 13 different radii.
This allows better access to the banquette from one end as the seating splays out.
Design with us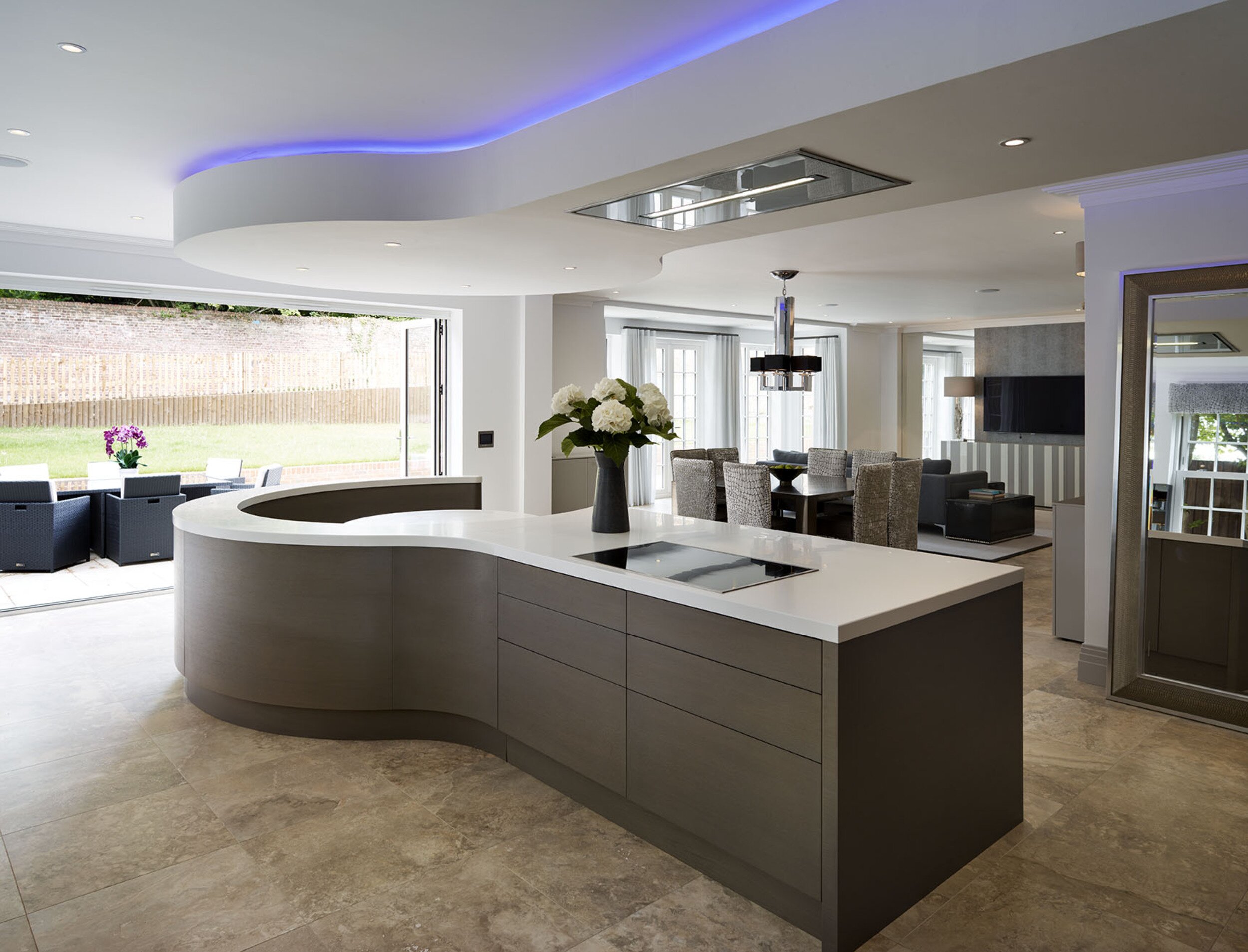 Bespoke Kitchen Furniture
All the furniture is bespoke and there are 3 different handleless handles in this design. The sink run is a High Gloss PU burnished finish with an angled detail to the door for opening but the stained wood grain is either on push latch or a 'Servo Drive' electronic opening system.
The fridge and freezer had a combined letterbox scallop for access to the appliances as these could not be fitted with touch latches.
Worktops
The worktops are 50mm Corian Glacier White and we integrated a motorized TV lift system that when closed was hidden under the Corian worktops.
Design with us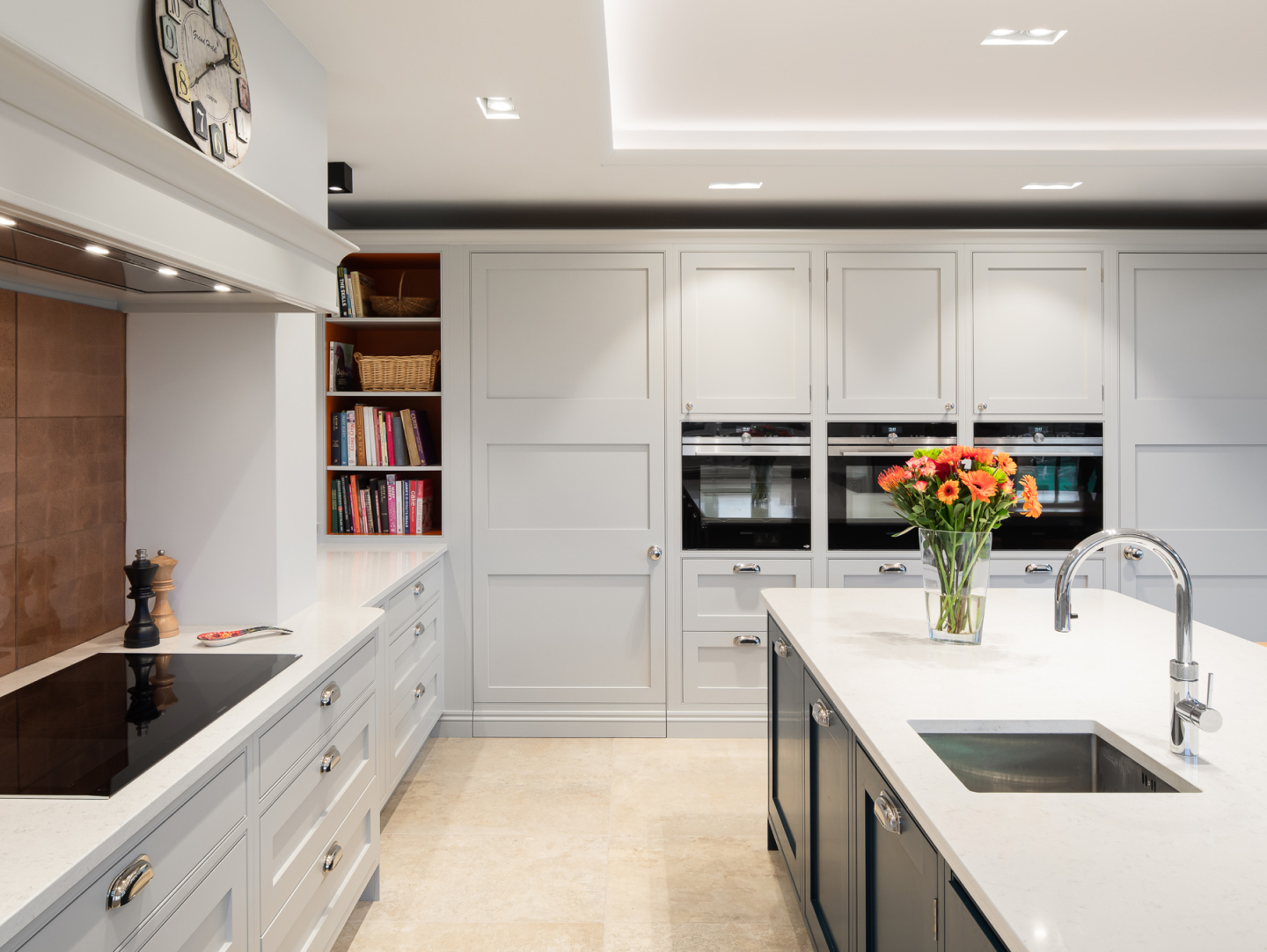 Affordable Luxury
With our handmade furniture you are assured the very best in British quality craftsmanship combined with our exceptional, award-winning design flair and service.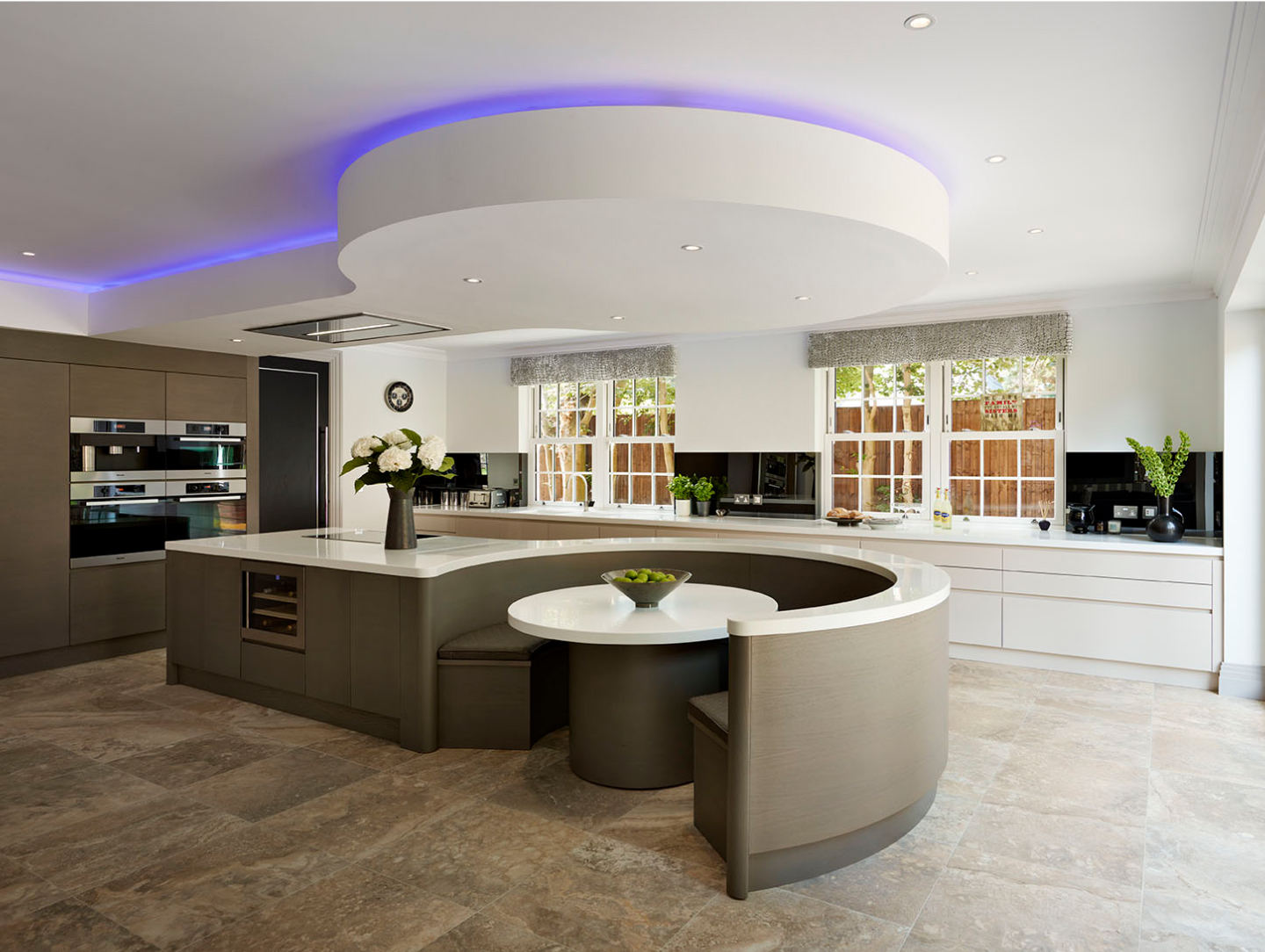 Manufacturing Excellence
Our truly bespoke cabinetry is made in the UK to our specifications.
This enables us to design your kitchen without constraint and allows the imagination to take flight. No modular units here!
We can create curves, linear modern or handleless and classic in frame designs. These can be produced in solid timber or handpainted with beautiful book matched veneers or flat spray painted.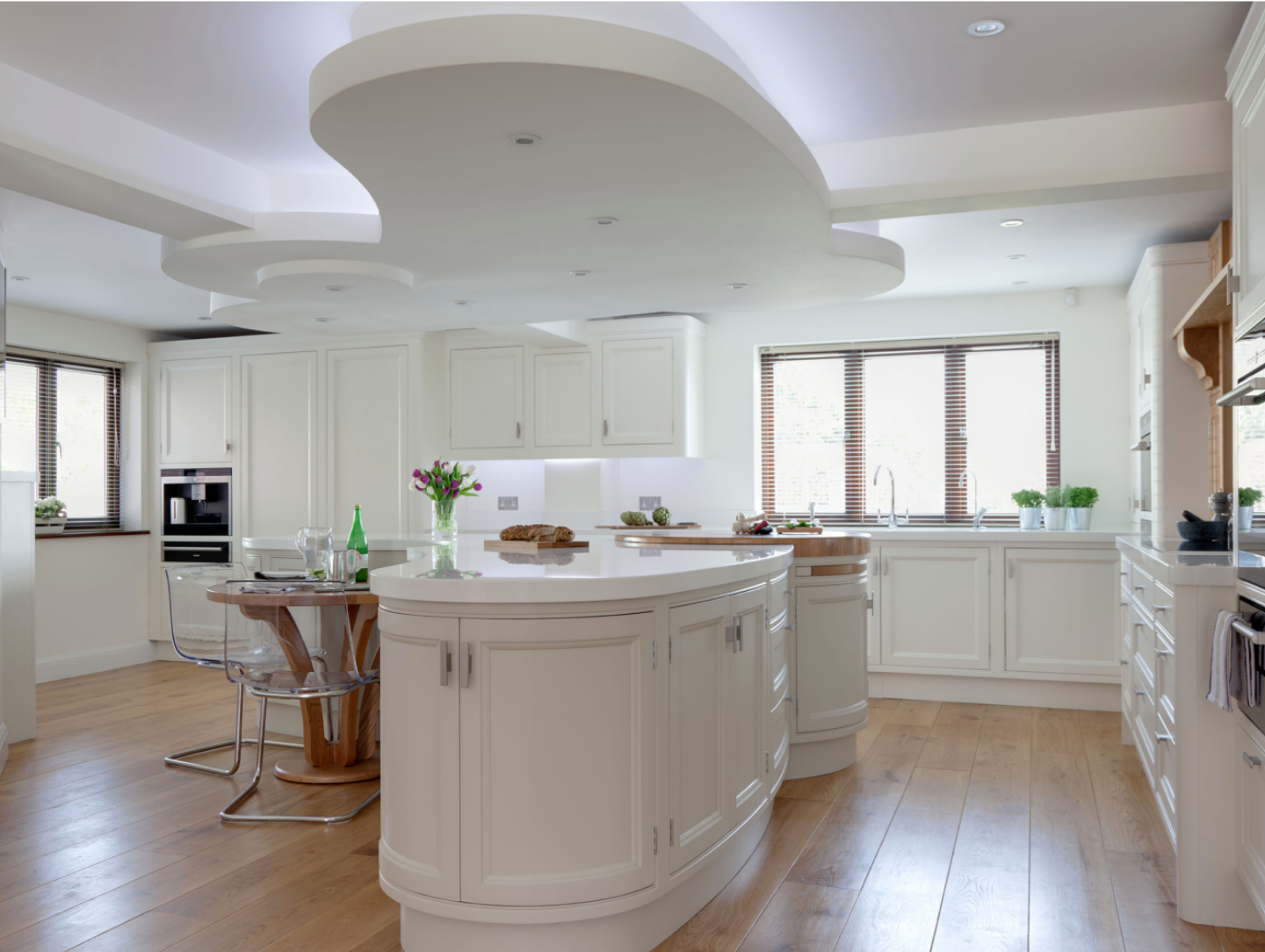 Elegant Curves
Without a doubt our award-winning curved kitchen designs are renown.
We can create completely unique spaces that are real centre pieces in any home. Curved banquet seating and Butcher's barrell blocks are examples of elegant feature details that really stand out.
A selection of Bespoke kitchens
designed, built and installed by